---
Floral Management | Jan 2017 | www.safnow.org
2017 Flower Trends Forecast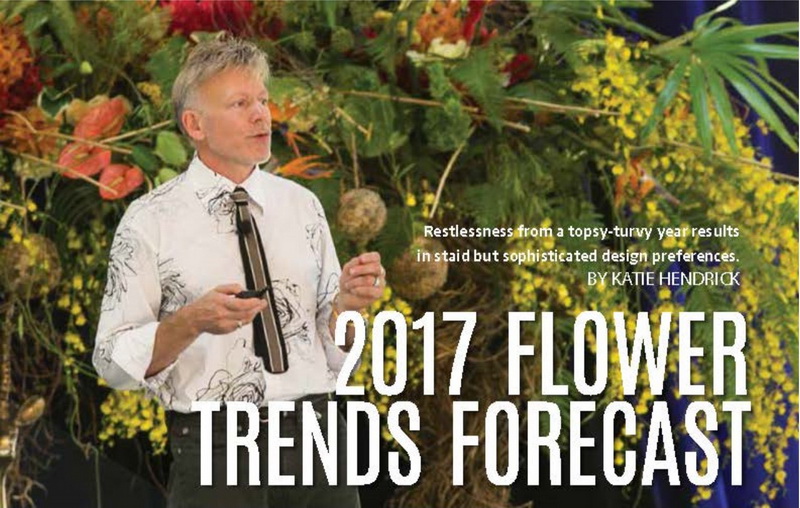 Mimosa, Turquoise, Honeysuckle, Tangerine Tango…
The perky, punchy hues so popular in the early part of the decade feel like distant memories.
"There's been a huge color shift," said Michael Skaff, AAF, AIFD, PFCI, shown above. "The bright pure tones have become more muted." He credits the palette cleanse, in part, to political surprises, which have been numerous as of late (2016's highlight reel: Great Britain's vote to leave the European Union, Colombians' original rejection of President Santos' peace treaty with FARC, South Korea's impeachment of President Park Geun-hye and, of course, the election of Donald Trump)
"These changes leave us uneasy because we don't know what's going to happen."
In response, he explains, we cling to hues "that are aren't loud or bold."
Today's "it" colors all have gray undertones, he said: "Some describe this as 'muddy' but I prefer 'complex.' These are mature shades with depth that help create very sophisticated designs." (For his part, Skaff was not surprised with the Pantone Color Institute named Greenery the 2017 color of the year. While it's been called a "springtime" shade, the color is surprisingly complex and flexible.
---
Flower Trends Forecast 2017

Reveals Insights into Evolving Bridal Preferences
International Floral Distributor's (IFD) Trend Forecaster, Michael J. Skaff, AIFD, PFCI, AAF has scoured the floral, fashion, and home décor industries to find the top styles trending in today's market. According to Skaff, this process often begins a full two years before the trends are actually released and is greatly impacted by what he notices in marketplace as well as during meetings of various design groups. Skaff noted how the current global social, political, and economic unrest has been affecting fashion and home décor trends. Trending colors have evolved to new complex colors that reflect the current anxiety and unrest individuals may be feeling. This new consumer sentiment has led to a shift of popular wedding and decorating color palettes. IFD's Flower Trends Forecast shares the latest trends in flowers for 2017 and here are popular new color trends and some of their impact on weddings styles.
French Connection is an overabundant look anchored with deep red tones offset with by pastels and graphic gray.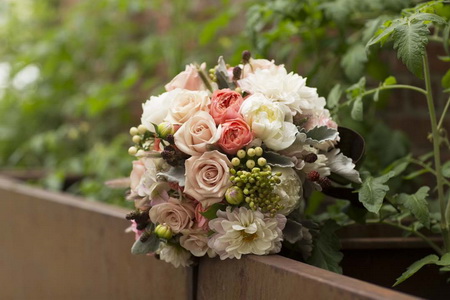 For the sophisticated bride, expect the sensuous and seductive look of the French Connection. Luxurious romantic blooms of orchids, roses, and hydrangeas appearing in softer red hues with hints of orange and brown provide a rich and multicultural air. Flowers are used in abundance in this moderately muted and passionate style. French country mixes with a more formal Parisian design style to present a look that embraces the past in a modern and holistic approach. Bridesmaid dresses are sophisticated with classy colors like parfait, clover, and pool blue and designs such as small botanical prints. The French Connection bride loves life's finer things and will accent her day with refined metallic pieces, lavish ribbons, and pedestal vases.
Force of Nature use serene shades of blue and green to create a rich natural and soothing style.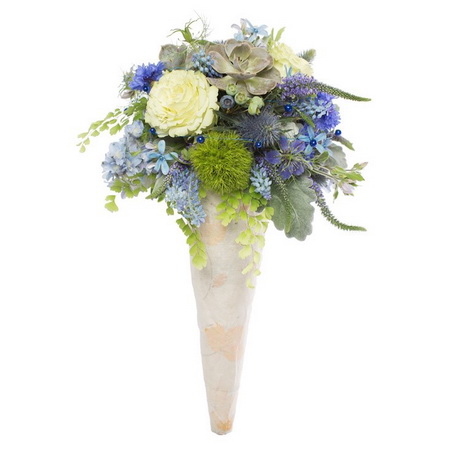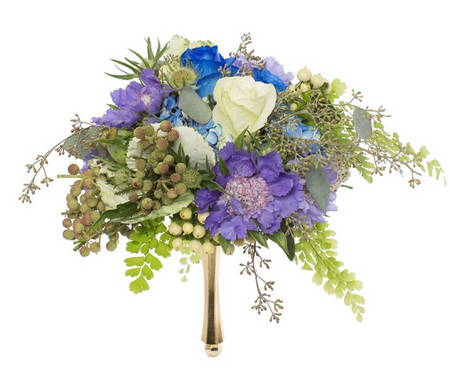 The nature-loving bride is captivated by the serene shades of blue and green found in the Force of Nature. This free and casual theme harmoniously connects the bride to the natural world. Bundles of mono-botanical flowers like iris, hydrangea, or scabiosa are gathered in cobalt blue or frosted glass vases in garden and nautical arrangements. Wedding dress colors are a wide array of blues and greens and are paired with blue or gray tuxedos. The setting is peaceful as rich spa and oasis blues pop and complement the organic green surrounding of a natural world. Heirloom roses come alive in artesian flared vases alongside variegated foliage and ferns. Textural flowers of scabiosa and nigella combine with the elegance of orchids and hydrangeas to provide a calm garden feel.
Modern Wonders uses clean lines and a rich palette of warm golds, coppers, taupes and oranges to combine cultural antiquities with natural elements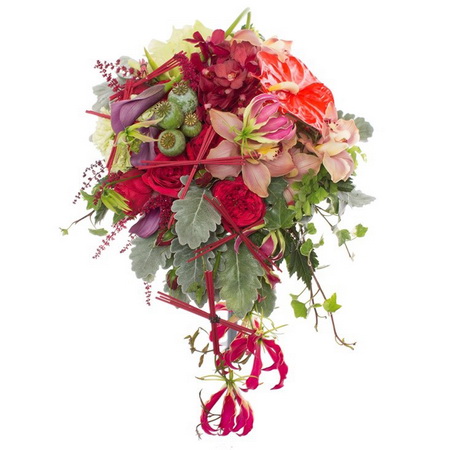 The bride looking for a contemporary and simplistic take on her event will love the simple chic lines of the Modern Wonders trend. The style blends the spirit of Asian antiquities with natural elements in simple but strong lines. Modern Wonders contrasts graphic oranges with muted purples and earth tones to create an affectionate and welcoming atmosphere. Unique and vibrant flowers express the desire for a rare and rich experience. Tropical flowers like orange anthurium and bromiads juxtapose chocolate cosmos and cymbidiums as well as rich plum calla lilies and burgundy Astilbe. Modern Wonders' hints of warm gold are offset by powerful shades of greyed blues and copper. Artifacts, surface structures, and crafted textures unite the new with the old for a modern sophistication that brings warmth and simplicity to the bride's special occasion.
Into The Jungle is inspired by both muted and brilliant jungle hues that express a passion for exploration and rich experiences.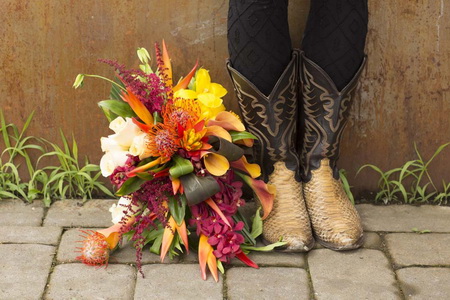 Travel and lifestyle transform into a cosmopolitan everyday elegance with Into the Jungle. The bride is confident, passionate, and called to the wild. Sun-kissed shades of orange, yellow, and red glisten alongside tropical foliage, mosses, vines, cork, and bamboo. Yellow and orange orchids, protea, and roses combine with exceptional flowers such as heliconia, leucadendron, celosia, and brunia creating the adventure of a tropical jungle. Tangerine, lemon lime, sunbeam, and clover bridesmaid dresses are patterned, weaved, and plaited with fabrics inspired by the Savanna. The brilliant muted tones of Into the Jungle are combined with natural accessories of bamboo and cork. This is a multicultural safari grounded in urban influences to embody an ethereal tranquility that shimmers in flowers and fashion.
Brides choose a color that they feel is the best reflection of their style. Often around 'her' color, the bride will build a palette of colors and a style for her wedding. 'Her' color can be any color, but the palette of colors and the style she chooses for her special day are generally driven by current fashion trends.. Flower Trends Forecast takes into account trends in fashion and home décor and applies emerging color and style trends to flowers and floral décor.
View PDF version
---
New Forecast Reveals Need for Florists to Tweak Product Offering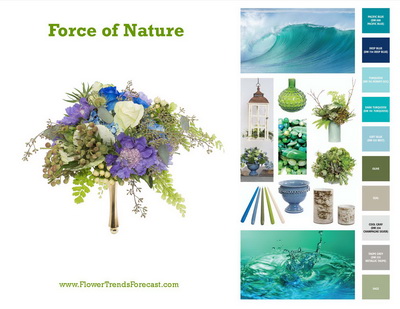 Integrating new consumer preferences into your product offering needs to be done continuously. Most florists manage their product offering by just tweaking their everyday restocking. Larger event floral decorators develop new themed product offerings once or maybe twice a year. The two different processes of managing product offering both adjust the mix of products offered to customers. The key of course is to make sure the product offering is aligned to changing customer preferences.
The fashion industry is working feverously to shorten the time from runway to shelf. Social media now impacts consumer preferences faster than ever before and consumer expectations change rapidly. Everything from apparel, home decorating and even new recipes are shared across the population at lighting speed and consumers are looking for new products often before they are available or before supply chain management can adjust the inventories on the retailers' shelf.
The great news is that florists can change or adjust their product offering on short notice. Since retail florists have new products (cut flower orders) arriving weekly or even daily, adjusting combinations and colors of flowers can be achieved quickly. Responding to changing customer preferences can be quick. Making the product offering more appealing to customers can be taken to a whole new level by following a more structured and analytical approach. The key is listening to the customers! Let customers' answers (preferences) influence product offering decisions, questions such as:
Are there any new apparel colors or styles that you really like?
Have you added any new home decorations – what colors, what finishes, what style?
Have you seen any new flower colors that you love?
Have you seen any unique or new types of flowers that you like?
Always have a way to track what is being sold more and what is being sold less. It can be as simple as having a notebook to make daily ordering notes; 'too many brightly colored flowers again', 'out of hydrangeas', 'customers loved new mini callas'; the notes provide insight and keep the focus on customer preferences!
At Flower Trends Forecast we analyze how consumers are answering certain questions and provide an annual forecast, identifying how consumers have changed their preferences for floral stylings, flower types and flower colors. Flower Trends Forecast 2017 identified four emerging trends in consumer preferences for their cut flower purchases:
The French Connection. The French Connection trend is luxurious and sophisticated. The color palette features soft red hues, hints of orange and chocolate brown, as well as other muted earth tones. Small botanical prints come together with lace overlays decorated with adoring delicate blooms. Romantic blossoms of roses and orchids complement viburnum berries within pedestal vases and refined metallic vessels.
Force of Nature. The Force of Nature style invokes casual nautical themes overflowing with garden wonders. Serene shades of blue and green calmly mingle with bright white. Bundles of hydrangea and corn flower come together with nigella and scabiosa and are housed in frosted and clear glass vases. Subdued patterns harmoniously connect with aged metallic finishes.
Modern Wonders. The Modern Wonders look unites the young with the old as it morphs modern sophistication with cultural antiquities. Picturesque chic lines combine with aged Asian style through beaded accents, irregular geometric patterns, and crafted textures. Graphic oranges and reds are offset by hints of gold and muted purple. Anthurium come to life alongside ginger, cymbidiums, and astilbe.
Into the Jungle. The Into the Jungle theme is rich in exotic prints showcased in brilliant muted tones of tropical hues. Sun-kissed shades of orange, yellow, and red glisten alongside earth-tinged gold. Calla lilies and bird of paradise cluster together in hand-woven baskets and cork covered vases. Heliconia, pincushion protea, and bromeliads are accented by moss, vine, and bamboo.
A new video summarizing the emerging preferences found in Flower Trends Forecast 2017 is now available. Visit http://www.flowertrendsforecast.com/video or https://www.youtube.com/watch?v=KdJH2cXddT8 to see the newest Flower Trends Forecast video.
About Flower Trends Forecast
Flower Trends Forecast is published by International Floral Distributors, Inc (IFD) to keep the flower industry up to date with changing consumer preferences. The annual report has been published annually since 2009.
More information on flower trends can be found at http://www.flowertrendsforecast.com/, on Facebook at https://www.facebook.com/FlowerTrendsForecast/, and on Twitter at https://twitter.com/flower_trends.
About International Floral Distributors, Inc.
Flower Trends Forecast is published by International Floral Distributors, Inc (IFD). IFD is a consortium of floral distributors with 60 locations across the United States providing quality fresh flowers and florist supplies to florists and event floral specialists. IFD is owned by 20 floral distributors who are dedicated to serving the unique needs of companies that specialize in floral products. For more information about IFD visit http://www.ifd-inc.org.
View on PR Web: