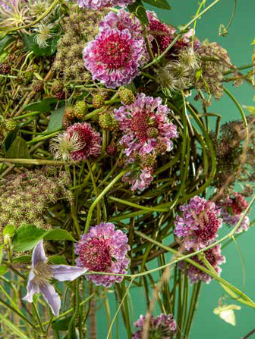 Bundled Power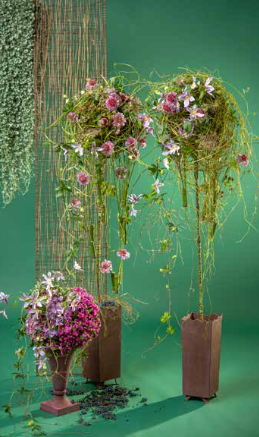 Topiary shape art
The topiary is a festive cut form made from plants or cut flowers. Custom-made, created for an event, a space, an occasion, a person. It is a very special form in many periods of history. In flowers, horticulture and landscape architecture. How much fun is it to create interesting shapes from summer flowers? Some flower shapes are ideal for symmetrical decorative classical arrangements, for the more architectural positions and presentations. But there is much more to this subject.
Compact shapes in a slightly asymmetrical form, movements that break out of the dense mass.
Modern ideas of a topiary are seen in 2022. Not too big, too lush, too rich in flowers. Even a shaped bouquet, in a vase, can be so interesting with enough creativity. A bundle of flower shapes on long straight stems can be an excellent topiary. The landmark of a good topiary is the intention of a cut or shaped contour. Even small works can have this. Do not focus on flowers only, grasses, greens, vines and dry material are also very suitable. Try drying fresh material yourself, the bundled effect can be very interesting.
About the design
Two spears on a stick are formed from hop vines. The bamboo tubes have lateral arms and are pushed into the vines, filled with water. There are thinner bamboo sticks with smaller ones attached, waxed from the inside, which hang down to allow the flowers and grasses to dance. Another shorter topiary is placed on an iron cup, dyed a faint purple. A ball of Agrowool holds all the petite flowers such as Clematis, Eryngium and Hydrangeas. Topiary is a very traditional theme, but there is an opportunity here to make a more modern adaptation.
Trend Development: Gregor Lersch