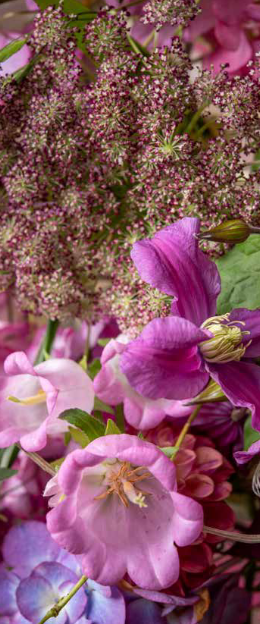 Room-Changing Beauties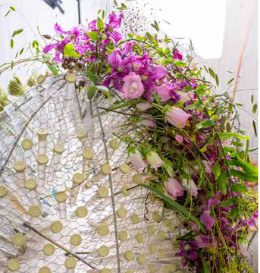 Large room decorations with flowers
Over the past two years, people have missed out on a lot. Weddings, big events.... Things are coming back, sure, but in what form? And for which budget? 'Modesty' can be a result of the current spirit of the times. Not in terms of aesthetics and quality, but in the overall look of the flowers. Garden style flowers: graceful, tender, deeper into botany. Interesting greens find their way back into the designs. An absolute strong trend is that of sustainability, and in this context especially not to tamper with nature. Reduce the amount of non-organic decorations at weddings and events. We see that many look for sustainable, natural alternatives.
People like to be carried away, to feel as if they are in another world. And flowers can do exactly that!
We know all about arches, gates, and flower walls. These require a different technical procedure and interpretation, using fewer very expensive flowers and more green forms. More and more, summer flowers are becoming the stars of the wholesale market. It is impossible to imagine florists without them in their order lists. We are seeing a revival of romantic new and existing flowers. There is also a desire to feel for the more modest originality of a country past, while the presentation methods can still be modern and innovative. The array of room decorations is very variable, yet far from minimalistic. On the web we see little innovation, we tend to see pictures from the grand old days (up to 2 years ago). What is coming up is more sensitive, durable and polished.
About the design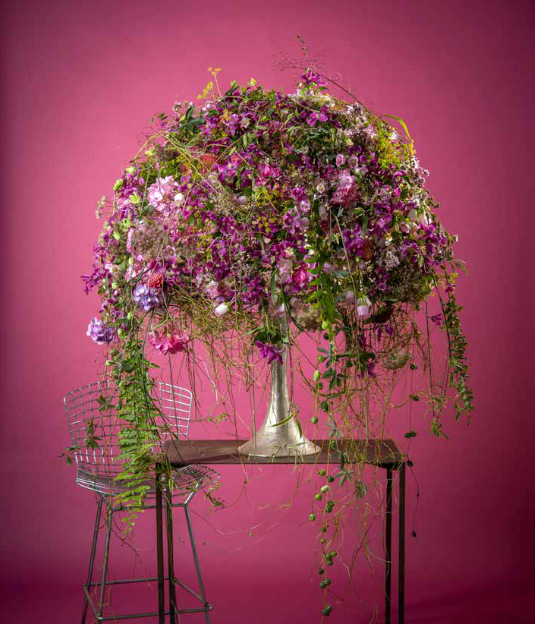 The large aluminum cup with a 'helmet' of thin iron rods, covered with galvanised chicken wire. Plastic Anthurium tubes, a remnant of the cut flower transport system, fit perfectly in the holes. Ideal and durable to put delicate cut flowers like Clematis, Talinum and Chasmanthium in here. At times, the flowers are grouped together, at other times, standing alone or flowing between all the light of the elegant flowers. This kind of arrangement is possible in many interesting forms. Feathery or short-textured, symmetrical or asymmetrical or even transparently lit with front and backlight.
Trend Development: Gregor Lersch