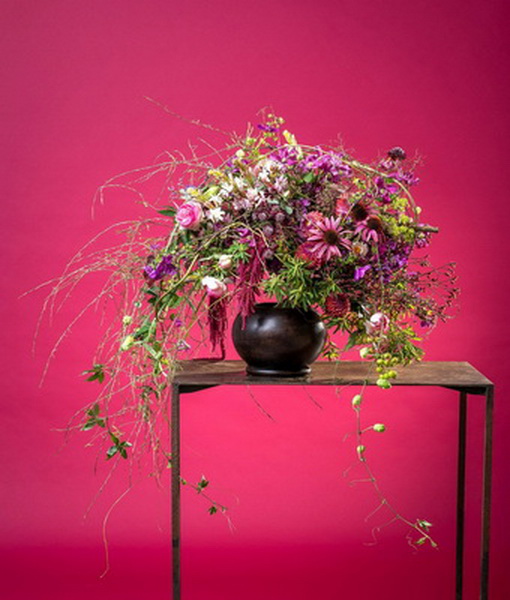 Wild Love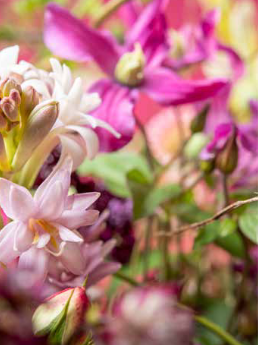 Bouquets with a natural spontaneous appeal
The bouquet seems almost self-made, but on closer inspection, it has a high level of sophistication. A spontaneous whole, which some might see as 'unfinished', but the expression is very natural, organic,and lasting. The creator feels nothing for conventions, rules and does not allow himself to be limited. Wild vines flatter themselves between groups of blossoms and grasses. Even a piece of a loose branch can hold the searching eye for a moment. Little flowers flow and dance. The handle of the bouquet disappears under the falling lines and vines. To create this, you need high discipline, to let the many graceful flowers and delicate stems reach the water source without stress.
The soul explodes in the enthusiasm for summer flowers
The 'wild love' bouquet does not scream out 'you must be mine'...no, it comes with a certain opulence. It does not reach to the heart but to the soul. Standing in glass or ceramic, in metal or hard wood. This bouquet goes from hand to hand and must be able to speak. There are summer beauties available all year round to make this bouquet, but don't forget to look for some wild addition from nature around you. These little extras may give a whimsical touch.
About the design
The base is a horizontally held, green lichen-covered branch, drilled on a willow stick and pushed into this wooden pure organic base. On this wooden base are some leafless hop vines, also as a technical medium, to hold the flowers. The bouquet has no wires. The flowers flow inside, going up and down, forwards, and backwards. The shape ends in an oval.
Trend Development: Gregor Lersch