---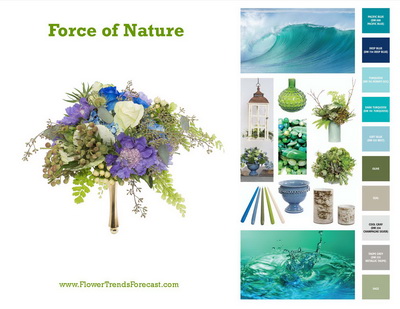 Integrating new consumer preferences into your product offering needs to be done continuously. Most florists manage their product offering by just tweaking their everyday restocking. Larger event floral decorators develop new themed product offerings once or maybe twice a year. The two different processes of managing product offering both adjust the mix of products offered to customers. The key of course is to make sure the product offering is aligned to changing customer preferences.
The fashion industry is working feverously to shorten the time from runway to shelf. Social media now impacts consumer preferences faster than ever before and consumer expectations change rapidly. Everything from apparel, home decorating and even new recipes are shared across the population at lighting speed and consumers are looking for new products often before they are available or before supply chain management can adjust the inventories on the retailers' shelf.
The great news is that florists can change or adjust their product offering on short notice. Since retail florists have new products (cut flower orders) arriving weekly or even daily, adjusting combinations and colors of flowers can be achieved quickly. Responding to changing customer preferences can be quick. Making the product offering more appealing to customers can be taken to a whole new level by following a more structured and analytical approach. The key is listening to the customers! Let customers' answers (preferences) influence product offering decisions, questions such as:
Are there any new apparel colors or styles that you really like?
Have you added any new home decorations – what colors, what finishes, what style?
Have you seen any new flower colors that you love?
Have you seen any unique or new types of flowers that you like?
Always have a way to track what is being sold more and what is being sold less. It can be as simple as having a notebook to make daily ordering notes; 'too many brightly colored flowers again', 'out of hydrangeas', 'customers loved new mini callas'; the notes provide insight and keep the focus on customer preferences!
At Flower Trends Forecast we analyze how consumers are answering certain questions and provide an annual forecast, identifying how consumers have changed their preferences for floral stylings, flower types and flower colors. Flower Trends Forecast 2017 identified four emerging trends in consumer preferences for their cut flower purchases:
The French Connection. The French Connection trend is luxurious and sophisticated. The color palette features soft red hues, hints of orange and chocolate brown, as well as other muted earth tones. Small botanical prints come together with lace overlays decorated with adoring delicate blooms. Romantic blossoms of roses and orchids complement viburnum berries within pedestal vases and refined metallic vessels.
Force of Nature. The Force of Nature style invokes casual nautical themes overflowing with garden wonders. Serene shades of blue and green calmly mingle with bright white. Bundles of hydrangea and corn flower come together with nigella and scabiosa and are housed in frosted and clear glass vases. Subdued patterns harmoniously connect with aged metallic finishes.
Modern Wonders. The Modern Wonders look unites the young with the old as it morphs modern sophistication with cultural antiquities. Picturesque chic lines combine with aged Asian style through beaded accents, irregular geometric patterns, and crafted textures. Graphic oranges and reds are offset by hints of gold and muted purple. Anthurium come to life alongside ginger, cymbidiums, and astilbe.
Into the Jungle. The Into the Jungle theme is rich in exotic prints showcased in brilliant muted tones of tropical hues. Sun-kissed shades of orange, yellow, and red glisten alongside earth-tinged gold. Calla lilies and bird of paradise cluster together in hand-woven baskets and cork covered vases. Heliconia, pincushion protea, and bromeliads are accented by moss, vine, and bamboo.
A new video summarizing the emerging preferences found in Flower Trends Forecast 2017 is now available. Visit http://www.flowertrendsforecast.com/video or https://www.youtube.com/watch?v=KdJH2cXddT8 to see the newest Flower Trends Forecast video.
About Flower Trends Forecast
Flower Trends Forecast is published by International Floral Distributors, Inc (IFD) to keep the flower industry up to date with changing consumer preferences. The annual report has been published annually since 2009.
More information on flower trends can be found at http://www.flowertrendsforecast.com/, on Facebook at https://www.facebook.com/FlowerTrendsForecast/, and on Twitter at https://twitter.com/flower_trends.
About International Floral Distributors, Inc.
Flower Trends Forecast is published by International Floral Distributors, Inc (IFD). IFD is a consortium of floral distributors with 60 locations across the United States providing quality fresh flowers and florist supplies to florists and event floral specialists. IFD is owned by 20 floral distributors who are dedicated to serving the unique needs of companies that specialize in floral products. For more information about IFD visit http://www.ifd-inc.org.
View on PR Web:
The outside world scuttles with clogged traffic as preoccupied pedestrians dart from one place to another while communicating with their devices. Due to this exact hustle and bustle mentality, IFD Trend Forecaster, Michael J. Skaff
AIFD, AAF, and PFCI, believes that people want to bring the serenity back to their homes like they did in 18th Century Victorian England.
According to Skaff, "Everything is moving so quickly outside of the home, and people want to use their homes as a sort of retreat." The design of these havens slightly differs depending on homeowners' personalities, but Skaff has teamed up with other members of the Color Marketing Group to anticipate where the world of colors plays into the construction of the ultimate oasis.
Skaff and his colleagues believe that the color, pattern, and texture aspects of 2017 trends have drastically changed from the previous year. When asked about the colors in particular, Skaff stated, "Colors are more grey and muted, or shall I say, the common colors are more complex (composed of multiple layers) due to what is happening in the world economically, politically, and socially."
The desire to instill tranquility within the home is especially omnipresent given the current unrest infiltrating many countries and their citizens around the globe. Skaff, who is a member of the Professional Floral Commentator Institution, states that the current political statuses of the United States and various countries in Europe, Asia, and South Africa have led trend forecasters to notice a decline in color vibrancy and vitality within the natural elements surrounding those colors.
As this transformation in consumer preference transpires, Skaff notes that as a people, "we're in kind of a retro-50s kind of perspective that transcends into the 70s as well." By including a variety of more complex colors along with a mix of modernity with antiquity, Skaff believes this combination showcases people's desire to be cultured and well-travelled.
For Skaff, consumers want to run with the idea of high-culture and adorn their houses with artifacts they come across so that their houses appear to be sanctuaries of personality and contrasts. They also want to create a natural theme in their homes so that the entire "retreat" concept is fully achieved in every aspect. Skaff believes that homeowners will incorporate the cultures of different countries, France in particular. This trend has found itself a popular concept in previous years, but is taking on a more complex look as colors drift toward the more dimmed appearance.
When researching the reasoning behind trends taking such a turn and deviating from the vibrant colors IFD revealed in 2016, Skaff looked to his memberships in many prestigious floral and design associations for inspiration. Through these memberships and attendance to numerous symposiums and trade shows, Skaff came across the more complex color palette and adjusted it so that the trends IFD will reveal as 2017 approaches will reflect it.
These trends will showcase the consumers' personalities and the way they have strived for something unique. This uniqueness has been led by the millennial generation who is the "driving force in what consumers will be buying in the future," as stated by Skaff. IFD's trend researcher had this passion in mind as he selected the trends for the company's upcoming reveal. Because consumers are searching for their own personalities in the products they purchase, Skaff wanted IFD's trends to reflect this desire as well as the color trends inspired by the world's economic, social, and political status.
Skaff's inspiration and findings can be found on IFD's Flower Trend Forecast website on Saturday, October 1 when the big reveal is made. IFD and Skaff will also be discussing the upcoming trends at the Society of American Florist (SAF) convention taking place on September 21-24 in Maui, Hawaii's Ritz-Carlton.
View: Flower Trends Forecast 2016