---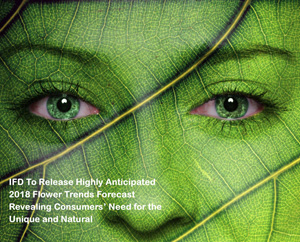 In today's world, there is no escaping the constant barrage of social media, instant news, and 24/7 connectivity, as well as the emotions they produce or the exhaustion that follows. How we live our lives and where we find solace and meaning is influencing trends in consumer preferences for cut flowers and floral decor.
The evolution of technology has armed today's consumers with a myriad of easily accessible information—equipping them with the knowledge they need to make their own decisions about their purchases. Though these informed consumers are becoming their own specialists of sorts, they are also looking to evade the overwhelming noise of technology and seek expert guidance. Now, sellers find themselves not only in the position to provide their audience with trending products, they are also competing with the information their consumers are gaining from the internet. Due to this transformation in the seller-buyer dynamic, it is more pertinent than ever for industry professionals to constantly understand and remain aware of consumer buying trends. Without this wisdom, trained experts will fail to stay ahead of the market.
To prevent such occurrences, International Floral Distributors, Inc. (IFD) persistently works to supply those in the flower and design industries with the latest consumer trends. As part of that work, IFD partners with a floral trend forecaster each year to research modern consumers, their flower design preferences, and the factors that affect their decisions. This year, IFD once again collaborated with trend forecaster, Michael J. Skaff, AIFD, PFCI, AAF, to examine the upcoming flower, color, decor, and wedding design trends for their annual Flower Trends Forecast. IFD would now like to share a sneak peek into what they found to be the top trends for 2018.
Consumers' aspiration for a melting pot far exceeds the mixture of cultures and opinions within a society. This enthusiasm has now entered the home. Nowadays, consumers crave to attain a flawless combination of opposites—the indoors and nature, classic and modern, domestic and international, lavish and minimal, trendy and unique. IFD trend forecaster, Michael Skaff, believes consumers' constant desire for juxtapositions is due to their inherent love of change "in their lives, homes, and work environments." One minute, consumers want to be whisked off to the relaxing Mediterranean coast while in the next, they aim to lead lives filled with elegance and opulence like 18th century French royalty. Though they strive for inclusivity, consumers still seek the one-of-a-kind experience and ways to showcase their individuality as well. By owning such unique items, consumers experience a sense of reward they cannot achieve elsewhere. For Skaff, websites like Pinterest and Etsy serve as sources of inspiration for consumers to create or own hand-crafted items that perfectly express their uniqueness. Through distinct color choices, bold flower selections, and uncommon accents, consumers will aim to obtain those ideal combinations and assert their originality in every design choice they make in 2018.
One way consumers will accomplish this special style is by incorporating global design into their lives. Because of modern advancements in technology, today's consumers are often connected on a global scale and "can easily find the latest trend and inspirational information globally," according to Skaff. Consumers then become captivated by these numerous international cultures, like those of Greece, Spain, Italy, and Egypt. These four countries in particular provide an unmatched combination of serenity and adventure demanded by today's buyers. The laid-back Mediterranean coast will excite with its casual charm, bold natural color palette, and classic luxurious feel. The earthy blues, oranges, and browns seen in a traditional Mediterranean villa will appear in striking geometric patterns, hand-painted ceramic vessels, and formal pedestal vases. Natural greens, reds, and yellows will come alive in Bells of Ireland, dahlias, and sunflowers. Mediterranean cuisine will mix with elegant blooms as olives and citrus fruits mingle with delicate cream Sahara roses, blue agapanthus, and rust-colored calla lilies. Whether it be with grand cascading bouquets, intricate geometric patterns, or rustic natural accents, the Mediterranean coast is sure to inspire many consumers in 2018.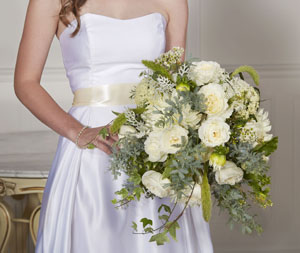 The rationale behind consumers' passion for the calming Mediterranean coast stems from their desire to create a refuge within the home. With the current political, social, and environmental unrest circling the world, today's consumers are looking to escape the turmoil and turn their homes into natural sanctuaries. Their hope of creating a personal haven collides with their passion for protecting the environment as they bring organic elements indoors and embrace nature's healing spirit. Whether it be through reusing goods, incorporating nature into the home, or purchasing eco-friendly products, Skaff believes today's consumers, especially Millennials, place more significance on nature's role in their design styles. Skaff predicts consumers will illustrate this love of nature by reinventing natural materials in modern industrial looks. Design choices will showcase the chic, artistic side of nature with beautiful combinations of mobile wood grains, raw stone, and burnished metal accessories. Consumers will aim to catapult the traditional garden style to new heights with vibrant ginger, delphinium, and celosia blooms. Nature's distinct textures will adorn the home through coarse fabrics, smooth leather, raw seed pods, and 3D metal flowers. Consumers will continue to search for the ultimate way to transcend the boundary between nature and the home, and there is no better way to end their quest than with an organic design that boasts an eco-friendly lifestyle.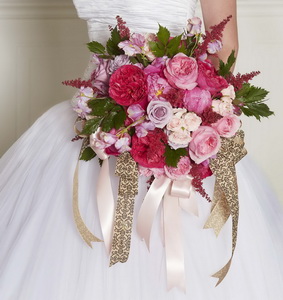 Along with consumers' peaked interest in the environment for the past several years, the design world has also witnessed an increased focus on France and its posh ambiance. No matter if it is historic or modern style, France continues to enthrall consumers and their enthusiasm for all things chic and elegant. In 2017, IFD revealed the French Connection trend, and Skaff believes this "romantic, lavish look is taken to the next level for 2018 with even more luxurious elements." Reminiscent of passionate 18th century France, 2018's updated take on classic French design will mystify consumers with its soft, feminine features. Consumers will adore dreamy floral arrangements filled with copious ruffled flowers like those found in roses, peonies, and ranunculus Various shades of purple will surge into the trend scene for the first time since the 2010-11 seasons and will complement bounds of pink hues. Symbolic of wealth, gold will resound as 2018's metallic of the year and flourish alongside the subtle blues, greys, and neutrals found in traditional French decor. Complete this timeless, haute French design with elegant Mother of Pearl finishes, distressed antique gold, and metallic bronze accents that will effortlessly please every romantic.
For consumers who are searching for something a little less lavish, a more youthful design combining a repurposed style and spirited artistic expression will better suit their tastes. With its fun and optimistic charm, the updated folk art design will perfectly embody consumers' aspiration for showcasing their quirky side. Due to Millennials' infatuation with vibrant colors, Skaff predicts we will witness "a slight throwback from the '60s where bold, bright colors were in textiles, fashion, and interior colors." Consumers' optimistic spirit will be unearthed with brilliant color combinations of bright orange, pink, and purple alongside subtle cream, sage, and peach. Punches of these saturated colors will come alive in quirky polka dot fabrics, multi-floral prints, and geometric star patterns. Consumers will look to add their personal touch by incorporating hand-crafted containers, butterfly motifs, and other one-of-a-kind artisanal elements to their designs. The hippy style will meet country chic as vibrant gerbera daisies, rainbow roses, and sunflowers explode in eclectic colored glass vases. Using the beauty of embroidery, origami, and quilting, remind consumers of their creativity and end their quest for whimsy with an eclectic folk art design.
IFD will reveal more about this whimsical style, as well as the other three trending designs for 2018, in their annual Flower Trends Forecast reveal available Sunday, October 1st.
Every year, IFD publishes their Flower Trends Forecast to help inform those in the flower and design industries about the upcoming year's anticipated flower, color, decor, and wedding design trends. As part of this forecast, IFD generates an annual Trend Book, as well as various trend and sponsor videos, that illustrate what they found to be the next year's flower and design trends. These publications usually encompass four dominant themes IFD's trend forecaster created based on consumer buying preferences. Once IFD and their trend forecaster have established this information, it is then released on their website and various social media platforms, as well as in their Flower Trends Forecast print publication. To learn more about IFD's Flower Trends Forecast, visit their website or follow them on Facebook, Pinterest, Twitter, Google+, Instagram, RSS Feed, and YouTube.
International Floral Distributors, Inc. is a marketing consortium of 19 flower distributors with over 60 locations in the United States providing flowers, supplies, and an annual Flower Trends Forecast to leading floral decorators, designers, and retailers. For more information about IFD and their distributors, visit their website or follow them on Facebook.
---
Floral Management | Jan 2017 | www.safnow.org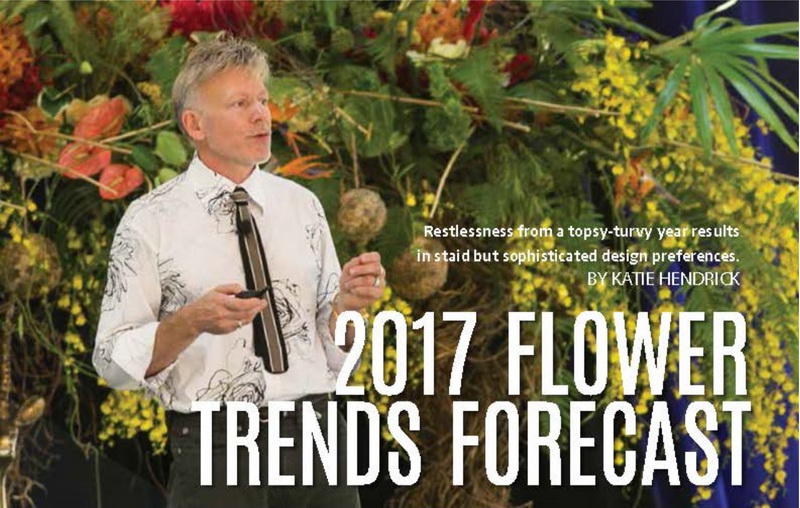 Mimosa, Turquoise, Honeysuckle, Tangerine Tango…
The perky, punchy hues so popular in the early part of the decade feel like distant memories.
"There's been a huge color shift," said Michael Skaff, AAF, AIFD, PFCI, shown above. "The bright pure tones have become more muted." He credits the palette cleanse, in part, to political surprises, which have been numerous as of late (2016's highlight reel: Great Britain's vote to leave the European Union, Colombians' original rejection of President Santos' peace treaty with FARC, South Korea's impeachment of President Park Geun-hye and, of course, the election of Donald Trump)
"These changes leave us uneasy because we don't know what's going to happen."
In response, he explains, we cling to hues "that are aren't loud or bold."
Today's "it" colors all have gray undertones, he said: "Some describe this as 'muddy' but I prefer 'complex.' These are mature shades with depth that help create very sophisticated designs." (For his part, Skaff was not surprised with the Pantone Color Institute named Greenery the 2017 color of the year. While it's been called a "springtime" shade, the color is surprisingly complex and flexible.
---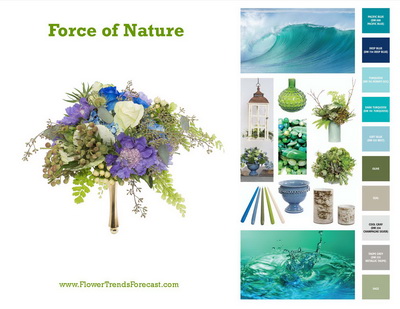 Integrating new consumer preferences into your product offering needs to be done continuously. Most florists manage their product offering by just tweaking their everyday restocking. Larger event floral decorators develop new themed product offerings once or maybe twice a year. The two different processes of managing product offering both adjust the mix of products offered to customers. The key of course is to make sure the product offering is aligned to changing customer preferences.
The fashion industry is working feverously to shorten the time from runway to shelf. Social media now impacts consumer preferences faster than ever before and consumer expectations change rapidly. Everything from apparel, home decorating and even new recipes are shared across the population at lighting speed and consumers are looking for new products often before they are available or before supply chain management can adjust the inventories on the retailers' shelf.
The great news is that florists can change or adjust their product offering on short notice. Since retail florists have new products (cut flower orders) arriving weekly or even daily, adjusting combinations and colors of flowers can be achieved quickly. Responding to changing customer preferences can be quick. Making the product offering more appealing to customers can be taken to a whole new level by following a more structured and analytical approach. The key is listening to the customers! Let customers' answers (preferences) influence product offering decisions, questions such as:
Are there any new apparel colors or styles that you really like?
Have you added any new home decorations – what colors, what finishes, what style?
Have you seen any new flower colors that you love?
Have you seen any unique or new types of flowers that you like?
Always have a way to track what is being sold more and what is being sold less. It can be as simple as having a notebook to make daily ordering notes; 'too many brightly colored flowers again', 'out of hydrangeas', 'customers loved new mini callas'; the notes provide insight and keep the focus on customer preferences!
At Flower Trends Forecast we analyze how consumers are answering certain questions and provide an annual forecast, identifying how consumers have changed their preferences for floral stylings, flower types and flower colors. Flower Trends Forecast 2017 identified four emerging trends in consumer preferences for their cut flower purchases:
The French Connection. The French Connection trend is luxurious and sophisticated. The color palette features soft red hues, hints of orange and chocolate brown, as well as other muted earth tones. Small botanical prints come together with lace overlays decorated with adoring delicate blooms. Romantic blossoms of roses and orchids complement viburnum berries within pedestal vases and refined metallic vessels.
Force of Nature. The Force of Nature style invokes casual nautical themes overflowing with garden wonders. Serene shades of blue and green calmly mingle with bright white. Bundles of hydrangea and corn flower come together with nigella and scabiosa and are housed in frosted and clear glass vases. Subdued patterns harmoniously connect with aged metallic finishes.
Modern Wonders. The Modern Wonders look unites the young with the old as it morphs modern sophistication with cultural antiquities. Picturesque chic lines combine with aged Asian style through beaded accents, irregular geometric patterns, and crafted textures. Graphic oranges and reds are offset by hints of gold and muted purple. Anthurium come to life alongside ginger, cymbidiums, and astilbe.
Into the Jungle. The Into the Jungle theme is rich in exotic prints showcased in brilliant muted tones of tropical hues. Sun-kissed shades of orange, yellow, and red glisten alongside earth-tinged gold. Calla lilies and bird of paradise cluster together in hand-woven baskets and cork covered vases. Heliconia, pincushion protea, and bromeliads are accented by moss, vine, and bamboo.
A new video summarizing the emerging preferences found in Flower Trends Forecast 2017 is now available. Visit http://www.flowertrendsforecast.com/video or https://www.youtube.com/watch?v=KdJH2cXddT8 to see the newest Flower Trends Forecast video.
About Flower Trends Forecast
Flower Trends Forecast is published by International Floral Distributors, Inc (IFD) to keep the flower industry up to date with changing consumer preferences. The annual report has been published annually since 2009.
More information on flower trends can be found at http://www.flowertrendsforecast.com/, on Facebook at https://www.facebook.com/FlowerTrendsForecast/, and on Twitter at https://twitter.com/flower_trends.
About International Floral Distributors, Inc.
Flower Trends Forecast is published by International Floral Distributors, Inc (IFD). IFD is a consortium of floral distributors with 60 locations across the United States providing quality fresh flowers and florist supplies to florists and event floral specialists. IFD is owned by 20 floral distributors who are dedicated to serving the unique needs of companies that specialize in floral products. For more information about IFD visit http://www.ifd-inc.org.
View on PR Web:
---
International Floral Distributor's (IFD) Trend Forecaster, Michael J. Skaff, AIFD, PFCI, AAF has scoured the floral, fashion, and home décor industries to find the top styles trending in today's market. According to Skaff, this process often begins a full two years before the trends are actually released and is greatly impacted by what he notices in marketplace as well as during meetings of various design groups. Skaff noted how the current global social, political, and economic unrest has been affecting fashion and home décor trends. Trending colors have evolved to new complex colors that reflect the current anxiety and unrest individuals may be feeling. This new consumer sentiment has led to a shift of popular wedding and decorating color palettes. IFD's Flower Trends Forecast shares the latest trends in flowers for 2017 and here are popular new color trends and some of their impact on weddings styles.
French Connection
is an overabundant look anchored with deep red tones offset with by pastels and graphic gray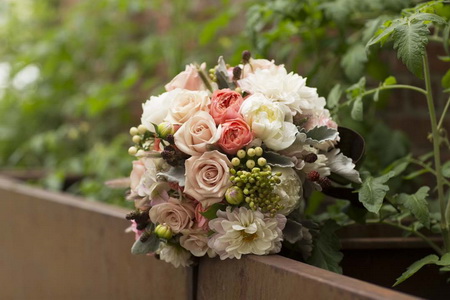 For the sophisticated bride, expect the sensuous and seductive look of the French Connection. Luxurious romantic blooms of orchids, roses, and hydrangeas appearing in softer red hues with hints of orange and brown provide a rich and multicultural air. Flowers are used in abundance in this moderately muted and passionate style. French country mixes with a more formal Parisian design style to present a look that embraces the past in a modern and holistic approach. Bridesmaid dresses are sophisticated with classy colors like parfait, clover, and pool blue and designs such as small botanical prints. The French Connection bride loves life's finer things and will accent her day with refined metallic pieces, lavish ribbons, and pedestal vases.
Force of Nature
use serene shades of blue and green to create a rich natural and soothing style.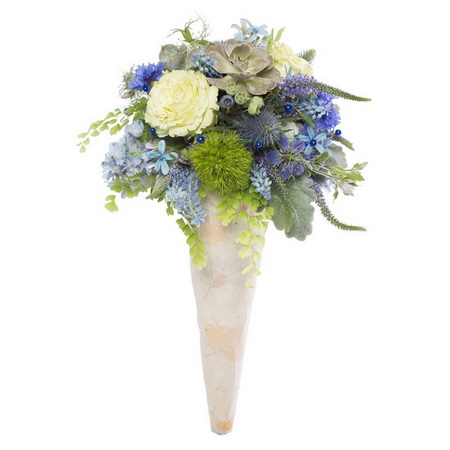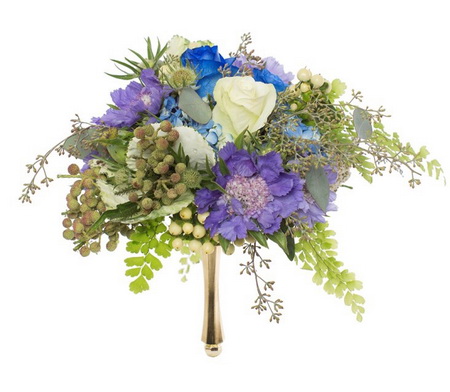 The nature-loving bride is captivated by the serene shades of blue and green found in the Force of Nature. This free and casual theme harmoniously connects the bride to the natural world. Bundles of mono-botanical flowers like iris, hydrangea, or scabiosa are gathered in cobalt blue or frosted glass vases in garden and nautical arrangements. Wedding dress colors are a wide array of blues and greens and are paired with blue or gray tuxedos. The setting is peaceful as rich spa and oasis blues pop and complement the organic green surrounding of a natural world. Heirloom roses come alive in artesian flared vases alongside variegated foliage and ferns. Textural flowers of scabiosa and nigella combine with the elegance of orchids and hydrangeas to provide a calm garden feel.
Modern Wonders
uses clean lines and a rich palette of warm golds, coppers, taupes and oranges to combine cultural antiquities with natural elements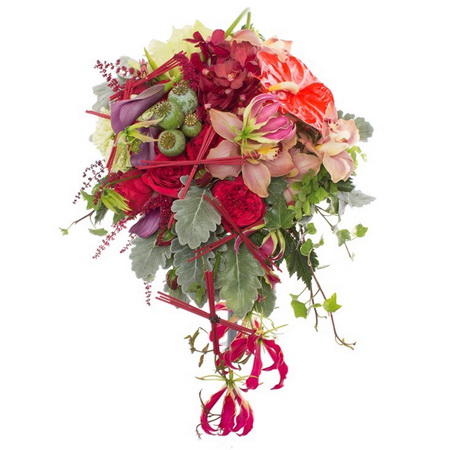 The bride looking for a contemporary and simplistic take on her event will love the simple chic lines of the Modern Wonders trend. The style blends the spirit of Asian antiquities with natural elements in simple but strong lines. Modern Wonders contrasts graphic oranges with muted purples and earth tones to create an affectionate and welcoming atmosphere. Unique and vibrant flowers express the desire for a rare and rich experience. Tropical flowers like orange anthurium and bromiads juxtapose chocolate cosmos and cymbidiums as well as rich plum calla lilies and burgundy Astilbe. Modern Wonders' hints of warm gold are offset by powerful shades of greyed blues and copper. Artifacts, surface structures, and crafted textures unite the new with the old for a modern sophistication that brings warmth and simplicity to the bride's special occasion.
Into The Jungle
is inspired by both muted and brilliant jungle hues that express a passion for exploration and rich experiences.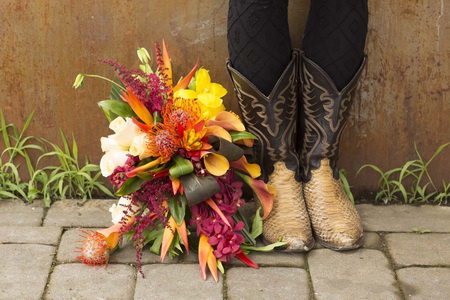 Travel and lifestyle transform into a cosmopolitan everyday elegance with Into the Jungle. The bride is confident, passionate, and called to the wild. Sun-kissed shades of orange, yellow, and red glisten alongside tropical foliage, mosses, vines, cork, and bamboo. Yellow and orange orchids, protea, and roses combine with exceptional flowers such as heliconia, leucadendron, celosia, and brunia creating the adventure of a tropical jungle. Tangerine, lemon lime, sunbeam, and clover bridesmaid dresses are patterned, weaved, and plaited with fabrics inspired by the Savanna. The brilliant muted tones of Into the Jungle are combined with natural accessories of bamboo and cork. This is a multicultural safari grounded in urban influences to embody an ethereal tranquility that shimmers in flowers and fashion.
Brides choose a color that they feel is the best reflection of their style. Often around 'her' color, the bride will build a palette of colors and a style for her wedding. 'Her' color can be any color, but the palette of colors and the style she chooses for her special day are generally driven by current fashion trends.. Flower Trends Forecast takes into account trends in fashion and home décor and applies emerging color and style trends to flowers and floral décor.
View PDF version
The outside world scuttles with clogged traffic as preoccupied pedestrians dart from one place to another while communicating with their devices. Due to this exact hustle and bustle mentality, IFD Trend Forecaster, Michael J. Skaff
AIFD, AAF, and PFCI, believes that people want to bring the serenity back to their homes like they did in 18th Century Victorian England.
According to Skaff, "Everything is moving so quickly outside of the home, and people want to use their homes as a sort of retreat." The design of these havens slightly differs depending on homeowners' personalities, but Skaff has teamed up with other members of the Color Marketing Group to anticipate where the world of colors plays into the construction of the ultimate oasis.
Skaff and his colleagues believe that the color, pattern, and texture aspects of 2017 trends have drastically changed from the previous year. When asked about the colors in particular, Skaff stated, "Colors are more grey and muted, or shall I say, the common colors are more complex (composed of multiple layers) due to what is happening in the world economically, politically, and socially."
The desire to instill tranquility within the home is especially omnipresent given the current unrest infiltrating many countries and their citizens around the globe. Skaff, who is a member of the Professional Floral Commentator Institution, states that the current political statuses of the United States and various countries in Europe, Asia, and South Africa have led trend forecasters to notice a decline in color vibrancy and vitality within the natural elements surrounding those colors.
As this transformation in consumer preference transpires, Skaff notes that as a people, "we're in kind of a retro-50s kind of perspective that transcends into the 70s as well." By including a variety of more complex colors along with a mix of modernity with antiquity, Skaff believes this combination showcases people's desire to be cultured and well-travelled.
For Skaff, consumers want to run with the idea of high-culture and adorn their houses with artifacts they come across so that their houses appear to be sanctuaries of personality and contrasts. They also want to create a natural theme in their homes so that the entire "retreat" concept is fully achieved in every aspect. Skaff believes that homeowners will incorporate the cultures of different countries, France in particular. This trend has found itself a popular concept in previous years, but is taking on a more complex look as colors drift toward the more dimmed appearance.
When researching the reasoning behind trends taking such a turn and deviating from the vibrant colors IFD revealed in 2016, Skaff looked to his memberships in many prestigious floral and design associations for inspiration. Through these memberships and attendance to numerous symposiums and trade shows, Skaff came across the more complex color palette and adjusted it so that the trends IFD will reveal as 2017 approaches will reflect it.
These trends will showcase the consumers' personalities and the way they have strived for something unique. This uniqueness has been led by the millennial generation who is the "driving force in what consumers will be buying in the future," as stated by Skaff. IFD's trend researcher had this passion in mind as he selected the trends for the company's upcoming reveal. Because consumers are searching for their own personalities in the products they purchase, Skaff wanted IFD's trends to reflect this desire as well as the color trends inspired by the world's economic, social, and political status.
Skaff's inspiration and findings can be found on IFD's Flower Trend Forecast website on Saturday, October 1 when the big reveal is made. IFD and Skaff will also be discussing the upcoming trends at the Society of American Florist (SAF) convention taking place on September 21-24 in Maui, Hawaii's Ritz-Carlton.
View: Flower Trends Forecast 2016