---

If it looks like Flower Trends Forecast expects many weddings to include pinks, blues, grays and peach colors, we are not the only ones! Wedding colors set the scene for the biggest day in many brides' lives. Brides choose colors they love and colors that they feel reflect who they are and who they aspire to be, and most aspire to be in touch with today's styles. At David's Bridal you will find more shades and hues of blue than any other color (10), followed by grays and pinks. In Steel Blue you will find 255 different dresses and in Petal pink 230! So yes, expect blue and pink weddings in 2019!
Fo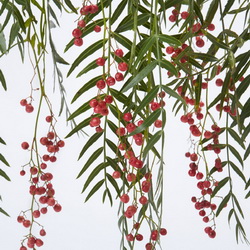 r wedding flowers, be ready to offer the unique and different. Brides want their flowers to be a change from what friends and family have carried previously. Finding out what is unique to each bride takes exploration. Be prepared to ask. If you really want to exceed expectations you will have to offer unexpected choices. Think how many bridal bouquets you have seen in the last six months that include king protea, be prepared to move on!
One trend to take advantage of is using fun foliages. Although there will still be lots of bouquets with weeping eucalyptus, look to other foliages as a way to make bouquets one-of-a-kind. With brides preferring more textural looks, mixed foliages provide not only an array of textures but a way to make bouquets reflect individual personalities and aspirations. All-foliage bouquets will be in the mix for 2019! Unique foliages are the 'new' flower for 2019!
The trend toward less muted, mono-botanical bouquets and more toward juxtaposed colors, textures and mixed flower bouquets continues. Bigger bouquets look to be the choice of many brides but do not be surprised for those wanting smaller bouquets, just be sure the flowers are exquisite and have a unique twist. It might just be the cinnamon basil or the Britton shiso (burgundy Japanese basil) that puts the bouquet over-the-top for the bride. Brides love to hear what makes their bouquets different and you must offer options!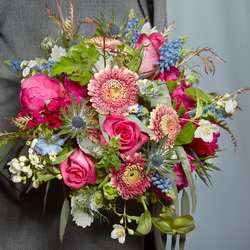 The Believer look identified by Flower Trends Forecast is filled with faith and hope for the future. Rich blues and pinks carry the look especially when paired with muted tan and a soft blushing peach. Navy blue becomes the new neutral serving as a backdrop for the pink to pop against. Pink flowers such as lilies, roses, peonies and yes, protea, will pop when paired with blue hydrangea and eryngium.
For a more elegant romantic look brides may lean more toward the Ethereal Bliss trend. A more mythical and minimalistic style where sage and lavender play key roles with soft pink. Florals include garden flowers like roses, dahlias and astilbe along with gray and gray-green foliages like dusty miller, sage and seeded eucalyptus. The palette combines soft tints with rich base tones and warm textures that will feel 'just right' for many brides.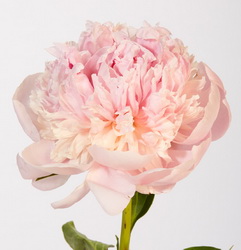 Vines, pods, mushrooms, berries and succulents are finding their way into bridal bouquets in 2019. A style Flower Trends Forecast has dubbed; Forest Walk. With life so entrenched in modern media many brides will look to the natural world to define their promising future. One that is wrapped in things of nature and exudes the textures of organic life. Textural, heavily petaled flowers like chrysanthemum and cactus zinnia work well, as do flowers with exceptional features such as scabiosa stellata and rice flower. Unusual foliages and mosses can play a key role; consider succulents and tillandsia, to weave in with vines, pods and mushrooms.
Prom may be just the spot for all the red and orange trend we see emerging in 2019. For those brides with bolder personalities the Hear Me Roar trend look will provide a palette for being seen. Here is a style palette rich in reds and oranges that can be offset with teal. The Hear Me Roar theme is well suited to structured, sculptural designs. Flowers that fit well include tropicals, including orchids, and line flowers such as gladiola, crocosmia and kniphofia. You will remember the Hear Me Roar look when you see dominating red using saturated Bordeaux, cinnabar or even burnt orange!
Unique cut flowers wow consumers. But, do not overlook the obvious or take for granted the beauty consumers see, that we too often take for granted. The ruffled edge of a gladiola or tulip could be just the visual cue that a customer is looking for to be inspired. View full 2019 Trend Details.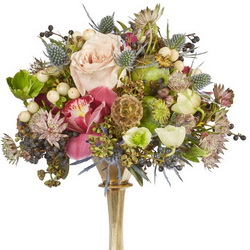 Since 2009, IFD has published their annual Flower Trends Forecast to inform the flower and design industries about the upcoming year's flower, color, decor, and wedding design trends. To learn more about IFD's Flower Trends Forecast, visit their website or follow them on Facebook and Twitter.
International Floral Distributors, Inc. is a marketing consortium of 19 flower distributors with over 60 locations in the United States providing flowers, supplies, and an annual Flower Trends Forecast to leading floral decorators, designers, and retailers. For more information about IFD, visit their website or follow them on Facebook.
Produce Marketing Association is the trade association that connects the global produce and floral supply chains to make opportunities bigger and problems smaller through industry-driven strategic initiatives. For more information on PMA visit their website.